Pricing
Single Apartment
Villa Maria or Castello di Sorci
$3395 pp

Shared Apartment
Villa Maria with Separate Bedroom
$2995 pp
Included
Daily Morning Pilates Mat Class & Afternoon Yoga Class, Welcome Night & Gathering, 7 nights of accommodations, all breakfasts, lunches, and dinners, happy hour, 3 excursions, cooking class, local transportation and welcome package, and the Villa is also pet friendly!

We can also accommodate those who may want to join the trip, but do not want to participate in the classes - ask for the adjusted rate :) .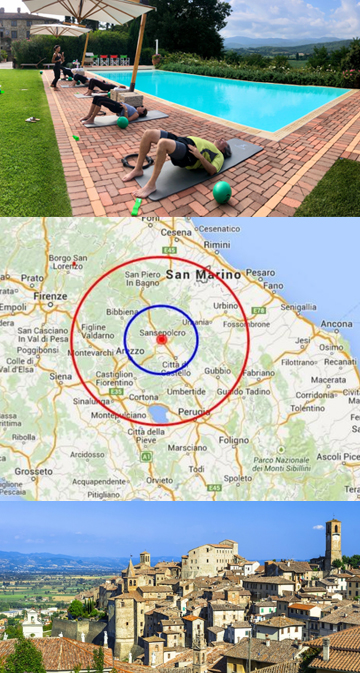 Join master Pilates instructor
Robin Horsfield Sammis
for this fulfilling and rejuvenating retreat blending Pilates and Yoga with the allure of spiritual art, vistas of amazing magnitude, culinary extravagances to dream about, and plenty of local flavor - magnificent wines, art & music - La Dolce Vita in the Tiber Valley. In September, the autumn colors, flavors, and traditions all mingle together in these towns, and the weather is ideal for exercise, excursions, relaxation, frolicking and meditation. Give yourself the gift of restoring your body, mind and soul while basking in the glow of the glorious pleasures that life has to offer.
Spend 8 days / 7 nights in the supremely magical and peaceful splendor of the ancient hills and valleys of the medieval towns of Anghiari, Sansepolcro and Citta di Castello, bridging the exquisite regions of Tuscany & Umbria.
La Dolce Vita September 5-12, 2019
Pilates & Yoga Retreat in Tuscany & Umbria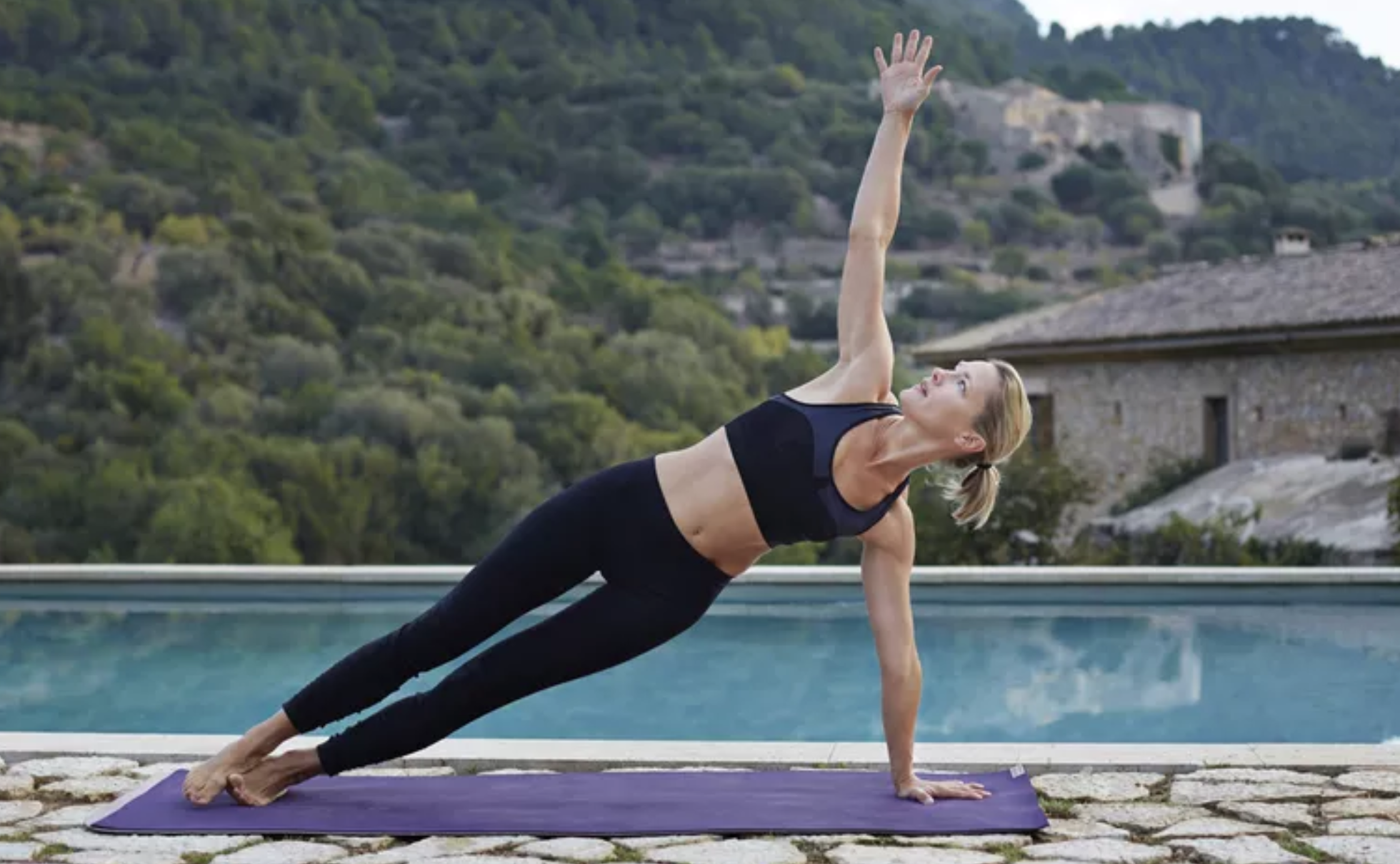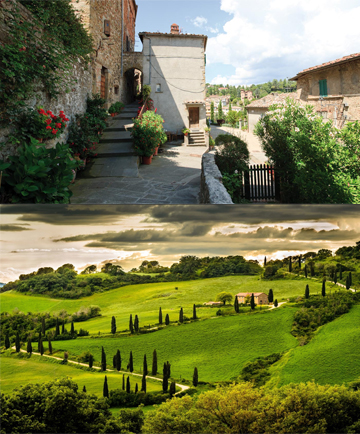 FAQs

You can fly to Rome, Bologna or Florence. We can assist you in arranging car transportation from there to Anghiari. Prices vary, ask for details.

Local excursions may include Wine & Mushroom Tasting, Native Sons Artist's Tours - The masterworks of Early Renaissance painter Piero della Francesca (born in Sansepolcro) or discovering Alberto Burri, one of the 20th century's most significant, groundbreaking and revolutionary artists (born in Citta di Castello), or Exploring Assisi
from St. Francis to Giotto.

Tuscany and Umbria are home to some of the most delectable food and wine extravagances known to mankind. We will select gastronomic gems and luscious libations to amaze your senses for dinner. Breakfast, lunch and happy hour will be
available with your accommodations. Travel to Florence, Cortona, Perugia, Arezzo, mineral pools, the beach, all potential daytrips on your own. Works by Leonardo da Vinci, Raphael, Luca Signorelli can also be seen locally.

A $500 deposit will be required upon booking your reservation by the June 15th deadline. Balance of payment will be due by August 15th. Cancellations made after August 1st will forfeit the deposit. Space is limited. Minimum participants 6 / Maximum 12.

Price does not include:
Airline transportation
Airport pick up/drop off transportation
Gratuities

Itinerary subject to modifications

For further information or to make a reservation please contact robinsammis@att.net



---
Robin Horsfield Sammis is a Master Pilates Instructor and has been a Certified Pilates Instructor since 2001. She has been a recognized fitness professional for over 30 years, traveling the world conducting workshops in group fitness.
Robin's life long passion for health and wellness culminated in developing her specialized blend of Classical and Contemporary Pilates, focusing on core and body awareness. Her training and insight into body mechanics is evidenced by her extensive experience rehabbing injuries and ambulatory pathologies.
This unique skill set and approach, paired with her attention to detail has drawn a selective clientele of athletes, celebrities, and professionals to her private practice. The majority of Robin's clients have been working with her for over 15 years, a testament to her attitude and results.
The opportunity to practice Pilates on a daily basis with like minded individuals, while immersing yourself in a different culture, is a truly rewarding experience. Fully absorbing the environment, lifestyle, and food, will lead to life-long practices and friendships.